Export Excel Contacts to vCard by Using of MS Excel to vCard Converter!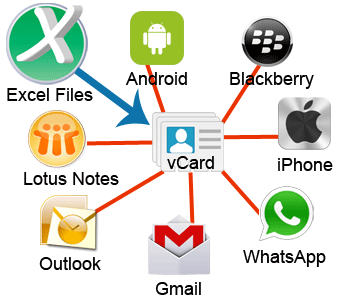 vCard is a essential file format to contain several kind of users information in specific VCF file format like name, address, phone numbers, logo, URLs, photographs and audio clips etc. Hence, we are offering excel to vCard converter program in the market for those peoples maintain contacts information in MS excel spreadsheet, they can access and export excel contacts to vCard (.VCF) file within convenience method.
Meanwhile, if any user is using Android OS, iPhone and Windows based phones like Micromax, Blackberry, Samsung, Nokia and HTC etc, then also, user can use Excel to vCard converter tool for importing contacts from excel worksheet to any Phone contacts list. Basically, android, iphone and windows phones support vCard format and create VCF file individually for each contacts. So in that scenario, excel to vCard program will more beneficial device to convert excel contacts to vCard format.
Note: After convert excel contacts to vCard (VCF) file format, easy to save VCF file in several Email applications and Mobile phones (Samsung, Blackberry, iPhone, Gmail, Whatsapp, Lotus Notes, Gmail, Android, iCloud and Apple Mac).
Key Features of Excel to vCard Converter tool

Quickly Convert Excel to vCard: The software has a user-friendly GUI which makes it easy. It quickly exports the Excel contacts to vCard (VCF) file. Also, contacts information does not change during the period of excel to vCard conversion procedures.

Save Excel Contacts in Multiple VCF Versions: Program gives permission to save excel contacts in any edition of vCard like 2.1, 3.0 and 4.0 etc. Software supports entire version of VCF file.

Support Both XLS/XLSX Files: Newly update edition of excel to vCard tool supports both excel (XLS/XLSX) files.

Tested (40,000+) Contacts Import XLS/XLSX files to VCF File: Software converts numerous contacts as vCard format. With help of excel to vCard conversion tool easy to save more excel contacts to vCard contacts folder without facing any more complication.

VCF file for every contact: The software creates VCF files for each and every contact in your Excel database. By using of excel to vCard conversion tool easiest to creates all VCF file individually for every excel contacts list.

Mapping of selected fields is allowed: Excel to vCard software to export Excel to vCard allows the mapping of selected fields. For example, you have the 'Names' as the first column in your Excel sheet and 'Email Address' as the second column. So, when you do the conversion, software will allow you to make such selection that names will go in names fields in the email client and addressed will go in email address field.

Allows to Import Empty and Duplicate email addresses: Excel to vCard converter program allows to import empty and duplicate excel contacts to VCF contacts list.
Download Excel to vCard Converter Demo Version!
The company has updated excel to vCard converter software with newly advanced technology, in which user can convert all excel contacts list into VCF file. But company has determined restriction on only email address and phone numbers in demo edition. Software (Demo) will only fetch and save first 8 digit of Phone/Mobile number and rest numbers will be replaced as "***DEMO***". In this same condition, software will save only first 5 characters of email address and rest character along with domain name will be replaced as "***DEMO***@domain.com".
Acquire License Version of Excel to vCard Converter to Import Excel Contacts to vCard!
After getting complete satisfaction from software performance then purchase license version of excel to vCard converter program in cheapest price like &69 license application to import excel contacts to vCard format. License application allows importing, converting and saving excel contacts in VCF file with full details. In license algorithm, you will not face any restriction on email address and phone numbers. Through full edition, user can import entirely email address, phone numbers and other contacts information in desire VCF file edition. Furthermore, above explanation about excel to vCard converter software, if you want to ask any query and question from us, so contact our support department. They will help you always 24*7 hours. »Read More for Information